Leaked Mossad cables reveal agency's 'true' assessment of Iran's nuclear program
Al-Jazeera set to publish intelligence documents; Naftali Bennett warns of 'Nuclear Spring'
The Qatar-based
Al-Jazeera
news network on Monday announced that it will be publishing hundreds of confidential intelligence documents written by South Africa's intelligence agency that detail meetings with Mossad agents on Iran's nuclear program.
The documents are part of a massive leak that is being referred to by
Al-Jazeera
as "The Spy Cables", and details briefings that were held from 2006-2014 between South Africa's State Security Agency and the CIA, MI6, Israel's Mossad, and several other spy agencies.
The release of the documents, which will take place in collaboration with Britain's
Guardian
newspaper, might be the largest such leak since former NSA contractor Edward Snowden revealed the massive scope of US intelligence surveillance in 2013.
According to a preview of the publication on
Al-Jazeera
, the report will reveal "the Israeli Mossad's true assessment of Iran's nuclear program."
The cables purportedly show that the Mossad did not believe Iran was looking to obtain nuclear weapons, although no further details were given as to when or to whom the agency voiced this view.
Meir Dagan, Mossad's chief from 2002 until 2011, in the past disagreed with Israeli Prime Minister Benjamin Netanyahu on the issue of Iran's nuclear aspirations and whether the Islamic Republic was close to producing the bomb.
However, in January 2011 Dagan backtracked on his previous assessments and warned that Tehran would likely have a nuclear weapon by 2015.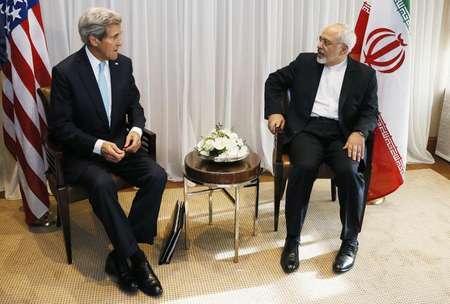 Rick Wilking (Pool/AFP/File)
Bennett: Arab Spring is on verge of becoming Nuclear Spring
Meanwhile, talks with world powers on Tehran's disputed nuclear program have made progress but significant work remains for a final deal, Iranian Foreign Minister Mohammad Javad Zarif said on Monday.
"Some progress was made on certain subjects but there is still a long road ahead to reach a final agreement," Iranian media quoted Zarif as saying after talks in Geneva with US counterpart John Kerry.
The foreign minister said talks had been "serious, useful and constructive with the P5+1 countries, especially with the American side".
According to the
Associated Press
, the agreement currently under discussion would see Iran rewarded for "good behavior" by gradually lifting restrictions on its uranium enrichment program after a 10-year period.
Israeli Defense Minister Moshe Ya'alon issued a statement following the conclusion of the day's talks, saying: "The deal with Iran, as it is now being consolidated, is a danger to peace in the Western world and threatens the security of the State of Israel."
Ya'alon slammed Iran as a "messianic and apocalyptic regime" and said "the deal now being consolidated will allow it to free itself from the economic siege and continue to enrich uranium as well."
Habayit Hayehudi chairman Naftali Bennett echoed the Israeli defense minister's statements.
"The Arab Spring we witnessed a few years ago is on the verge of turning into the Nuclear Spring," Bennett said.
Israeli Intelligence Minister Yuval Steinitz said he "hoped" that Western Powers would "prevent" the signing of such an agreement.
A senior US administration official in Geneva said a new round of talks between Iran and the P5+1 group of Britain, China, France, Russia, the United States and Germany will take place next Monday in Switzerland.
The meeting will be held at the level of political directors, the official said after the Kerry-Zarif discussions on Sunday and Monday.